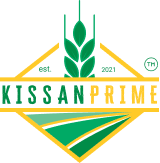 At KissanPrime, we guide farmers and agriculturist to various queries, and deliver a wide range of Agriculture and Farming products. The idea behind KissanPrime is to educate and give power to the farmers and entitle them to best products in the market at affordable prices. We don't believe to be a tech startup rather, a traditional business with reformed ideas. We use an extensive amount of data, technology and agronomy knowledge to give the right solutions (advice+products) to Indian farmers.
Pertaining today's scenario of there is a dire need of modernization of our India's most valuable and traditional business of agriculture to meet the upcoming standards of international market. Our team is a unique blend of people falling from the same background who know the root of problems faced by farmers and agriculturists to people who have a thorough knowledge of industry.
Vision
"To be a leading manifesto in providing farmers and agriculturists a platform to discuss their problems with experts and likewise audiences thereby providing them with result driven solutions cost cost effectively."
Mission
"To help grow the traditional farming industry with t he help of modern techniques and give access to world class solution and products"
KissanPrime Offers
●

Wide product range

●

Online forum for idea discussion

●

Problem redressal by top experts

●

Sourced from Top Brands

●

Fast delivery

●

Premium-quality & nutritious

●

Competitive Pricing.

●

Safe, secure and authentic e-commerce platform